The standard and reliability of the automotive wiring harness directly affects the service life and safety performance of the car. Automotive wiring harness production is generally by the wire, contact parts terminals (connectors) and sheathing and other components processing combination together, the next automotive wiring harness supplier will introduce the automotive wiring harness production process and technology.
Wire cutting process
The complete step should be the warehouse warehouse clerk according to the receipt of materials issued, led to the production department of the corrugated pipe, PVC pipe and glass fiber pipe for cutting, cut section to complete, but this cutting process can also be called the supplier operation. Then it is the cutting and stripping of automotive wire, open wire requirements and length can not have any deviation, the length is generally set in the display panel, open wire personnel need to monitor at any time, the length, cut wire cut, stripped wire length to check. The wire opening process directly affects the subsequent production process of the automotive wiring harness and is related to the overall progress.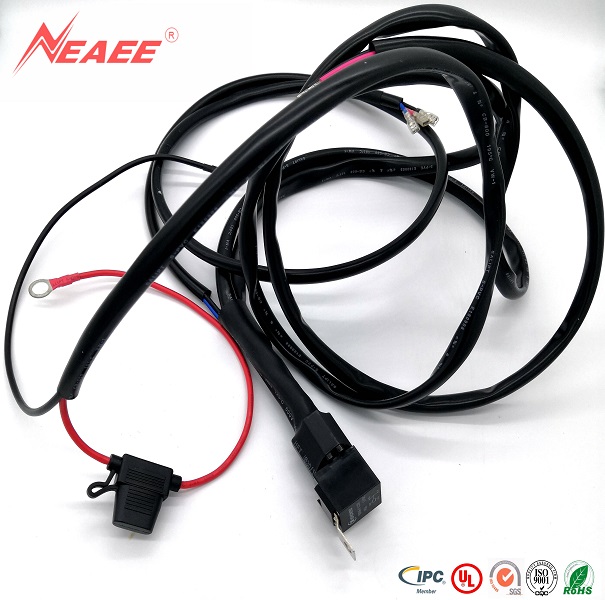 Crimping process
Some harnesses are crimped with waterproof plugs, while others require protective sleeves to be returned from the pre-assembly station before crimping. These stations need to be monitored at any time, the automotive wiring harness process is generally much stricter wiring harness production process, strict quality requirements is the basis for the long-term foundation of the enterprise.
Pre-assembly process
The delivery time and quality assurance of the automotive wiring harness depends to a large extent on the setting of the pre-assembly stations. The reasonableness of the pre-assembly process directly affects the efficiency of the wiring harness assembly and reflects the expertise of the R&D staff. Setting up pre-assembly stations for automotive harnesses requires engineers to summarise and optimise at any time on site, and many automotive harness manufacturers have made many attempts to optimise progress in assembly. To avoid a certain workstation workload is too large, other workstations workload is small, or need to be in charge of the scene to continuously summarise the experience.
Final assembly process
According to the assembly board designed by the R&D department, the design of the assembly equipment, imported electronic components, material box specifications and the size of all the assembly sheaths and nearby numbers are attached to the material box to improve the efficiency of the assembly. The assembly content and requirements of each workstation need to be set to prevent the workload of each workstation from being too large and thus affecting the progress of the whole assembly line.