These are the six most common problems in wiring harnesses, what are the symptoms of a bad harness to look for, and what steps you can take.
We will take the example of automobile wiring harnesses and then move to the broader area where wiring harnesses are used in many types of white goods, electronics, and electrical equipment (e.g. computers, 3D printers, dishwashers, microwave ovens, CNC machines, etc.). (If it has more than one circuit board or electrical component, it is likely to have a wiring harness).
Let's explore how wiring harnesses are manufactured and the problems companies may encounter during the initial manufacturing process. Ensuring that the correct materials, wires, connectors, and configurations are used, to begin with, will go a long way to ensuring the quality of the final product and that it does not fail prematurely after installation.
1. Incorrect wire preparation and staging
Preparing the wire for the harness involves selecting the correct wire product, cutting it to the specified length, and stripping the ends. Although this is usually done by automatic machines, user error and improper maintenance and adjustment of the machine can cause problems. Ensure that the correct size wire is selected and that the machine has been properly adjusted.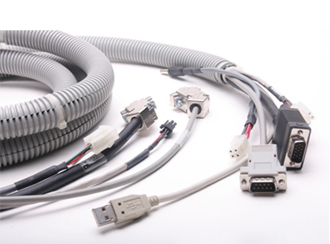 Wiring Harnesses
2. Poor harness layout
In addition to preparing the wire, if the wire is not correctly laid out to connect to the harness base, it may not fit into the final product or may result in the wire being too long and needing to be trimmed. Often, creating templates can help technicians to easily identify which wires, if any, are required and where they should be placed.
3. Poor quality labels
One of the most common problems that can be encountered with mass-produced harnesses is improper labeling. A good way to ensure that the marked harness is received correctly is to develop a system that checks the accuracy of the label even before it is printed. A good way to do this is to create sample labels for your models or travel products when placing a work order.
4. Defects in the crimping process
Crimping is by far the most widely used method of terminating wires. If it is not crimped properly, it can lead to a short circuit or breakage within the product. Alternatively, crimping may fail spontaneously, even if it passes the function test. Whether you crimp manually or use a machine, you must ensure that the equipment is set up correctly for the size of the wire to be crimped.
5. Soldering defects
A number of problems can occur when soldering wires to terminals. Soldering temperatures that are too cold or too hot, poor soldering techniques, or using the wrong size soldering iron tip on a torch can all lead to problems within the circuit and ultimately to problems with the finished product.