Wire harnesses are cable assemblies that carry signals in electrical applications. They are a loose bundle of wires that are combined to form a single covering to form a more organized system. Such harnesses are used in a variety of industries, with the automotive industry being one of the largest consumers.
Automotive wire harnesses use a variety of harnesses for optimal performance. These harnesses combine the wiring of different electrical and electronic devices into one system. Thus, they help in the transmission of signals and power to different electronic and electrical devices. They are also used to set up the circuits in a vehicle and are designed to operate efficiently under extreme conditions. Next, the wire harness supplier will share the following content with you.
Applications of automotive wiring harnesses
Automotive wiring harnesses are used in two-wheelers, three-wheelers, cars, utility vehicles, and commercial vehicles. Wire harnesses are designed to meet the electrical and geometric requirements of the vehicle and are embedded in the vehicle's body, engine, and chassis. The body harness is embedded in the instrument panel, door locks, power windows, and interior electrical components. The engine wiring harness is embedded in the speed sensor, lock-out system, cruise control, and fuel injection system. Chassis wiring includes the front wiring harness, rear wiring harness, and main wiring harness.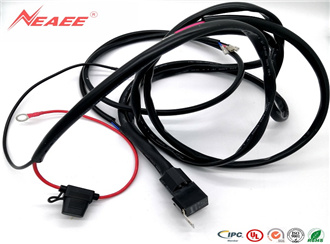 Automotive Wire Harnesses
Benefits of Automotive Wiring Harnesses
Automotive wiring harnesses offer a variety of benefits to those who use these devices in their vehicles. Some of the major benefits include -
Reduced installation time
Imagine installing multiple wires in your system. Then, consider installing only one unit that combines multiple wires. Obviously, it is very fast to install a single unit compared to multiple units. In addition, this reduces the risk of the possibility of incorrect wiring.
Reduce the risk of short circuits
The harness combines multiple wires into a non-flexible bundle, so it is safer and minimizes the risk of circuit shorts compared to loose wires.
Excellent performance in harsh conditions
Automotive wiring harnesses are made of durable materials, so the harnesses are also durable. They are designed in such a way that these bundles can perform very well in harsh conditions and can also carry high power loads.
Improves Fuel Efficiency
Wire harnesses play an important role in improving the fuel efficiency of any vehicle.
Performance of hybrid vehicles
Hybrid vehicles are in high demand and automotive wiring harnesses are the best choice as they offer excellent performance even in harsh environments. This means that these harnesses can carry high currents even under extreme conditions, thus being able to handle electrical loads and resist high heat and electromagnetic noise.
New East Asia is a leading and renowned automotive wiring harnesses manufacturer in China and can provide you with custom wiring harnesses that have been specifically designed to meet your individual specifications and requirements. We are currently certified to ISO9001:2016, ISO13485:2015, and UL. If you want to get more information about the best automotive wiring harnesses wholesale price, welcome to contact us.