Simply put, cable assemblies are bundles of wires and cables that are bundled together to save space. This bundling also makes it easier to keep track of the wires and cables running through various devices. Some of the companies that can benefit from cable components include consumer electronics, industrial designers, automotive, and healthcare.
Cable assemblies are available in a variety of options, including multi-conductor, coaxial/RF, wire and cable harnesses, complex military, flat ribbon, custom electromechanical, and more. While there are similarities, there are variations.
For example, a surface mount assembly, sometimes referred to as a wiring assembly or cable bundle, consists of a group of cables, wires, and subassemblies used to carry power or signals.
However, the actual cable assembly should not be confused with the wire harness parts. The main difference between them is that a wire harness has many branches with ends extending in different directions, with multiple terminations on each branch, while a cable assembly has only two ends.
Types of cable assemblies
There are two types of cable assemblies; standard and custom. Standard cable assemblies are those that are mass-produced from templates. As such, they are standardized for various electrical tasks. Custom assemblies are assemblies that are built specifically for a certain purpose or customer. They usually offer features such as additional insulation and special materials that are not available in standard assemblies.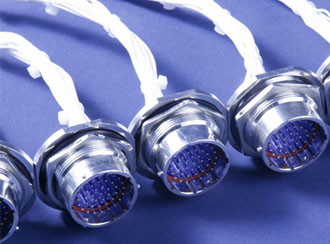 Medical Wire Harness: Cable Assembly with *P Connector
Types of Harness Assemblies
There are different types of wiring harness components, one being the basic type. Depending on the specific product, this may include only three separate components, while the classic type of harness can be designed with more components, as well as various other passive or possibly active components. Typically, there are dozens of wires and, in some cases, hundreds of unique terminations and components.
For ribbon assemblies, there are many different options such as split or multi-branch, high speed, non-PVC, custom twisted, flat ribbon, shielded and jacketed, etc. As in the case of ribbon cables, they consist of parallel wires and are ideal for applications where space constraints are an issue.
Ribbon assemblies are made with standard and pre-slotted, the latter offering the advantages of bulk cable or patch cords without the added cost of the equipment used for slotting. These cable assemblies can be customized to provide the ideal solution for any need. In addition to customization, ribbon assemblies are also made in solid tinned, stranded tinned, and stranded topcoats.
For example, in stranded tinned ribbon assemblies, the design includes conductors formed from flexible wires, each tinned and carefully twisted together for increased flexibility. Then using stranded topcoat ribbon assemblies, the conductors are flexible and consist of bare wires, which are again carefully twisted together and then tinned. In this way, the problem of frayed wire ends is eliminated.
Selecting a Cable Assembly Manufacturer
Xiamen New East Asia Electronic Enterprise Co. (NEAEE), Ltd. is a contract manufacturing company established in the year 2000. We are currently certified to ISO9001:2016, ISO13485:2015, and UL. We are a low volume high mixed contract manufacturing company for cables and wire harnesses. We have been successful in supporting all of our customers' needs and requirements for the past 18 years. If you want to get more information about the wholesale best wire harness parts price, welcome to contact us.