Automotive electronics work in a car with a constantly changing driving environment. The complexity and variability of the electromagnetic energy composition of the environment mean that the system is subject to a relatively wide range of sources of electromagnetic interference. Automotive wiring harnesses are located throughout the vehicle and are a major source of electromagnetic interference within the vehicle, while they themselves are often subject to electromagnetic immunity from time to time. This is why it is particularly important to know how to deal with electromagnetic interference in automotive wiring harnesses.
With its many years of experience in automotive wiring harness processing. New East Asia, as an automotive wiring harness supplier, believes that it is essential to take the following measures.
Shielding of interference source equipment and related harnesses: The main electronic control units used in the car's electronic control system should be encapsulated in shielded housings.
Increase harness filtering: For longer automotive harnesses, in order to reduce conducted and radiated interference, additional filtering should be added to the harness, which is more convenient by snapping on suitable ferrite magnetic rings.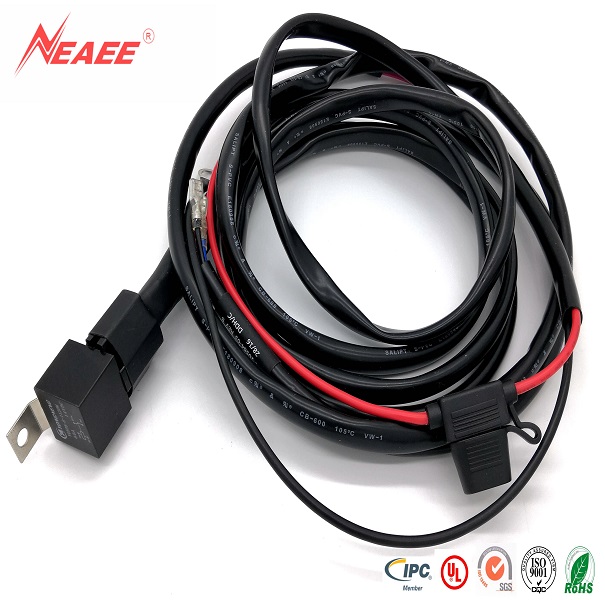 Automotive wiring harnesses
1. Rational planning of the wiring harness
Automotive wiring harness arrangement so that small power-sensitive circuits close to the signal source, high-power interference circuit close to the load, as far as possible to separate the small power circuit and high-power circuit, to reduce inductive and radiation interference between the harness.
2. Improve the grounding of equipment
Good earthing arrangements and improved ground laps can reduce high-frequency impedance. The grounding of automotive electronics is mainly to the nearest car body as well as to the harness shield ground.
3. Reduce the area of the wiring harness to receive interference
Automotive wiring harnesses should be designed for minimum length, minimum impedance and minimum loop area, preferably using a small loop area for power supply such as twisted pairs. Increase the distance from the equipment to the interference source: With the same arrangement of the interfering equipment, modify the installation position of sensitive components to increase the distance to the interference source.
Xiamen New East Asia Electronic Enterprise Co. (NEAEE), Ltd. is a contract manufacturing company established in the year 2000. We are currently certified to ISO9001:2016, ISO13485:2015 and UL. Our 67,000 square foot facility is located in Xiang'an Torch Hi-Tech Industrial Development Zone, in the city of Xiamen, Fujian Province.
We are a low volume high mixed contract manufacturing company for cables and wire harnesses. We have been successful in supporting all of our customers' needs and the requirement for the past 18 years.