At a glimpse, installing a wiring harness may look like a highly complicated task. Some might even cringe at just the thought, after all, our time spent in the garage is supposed to be fun isn't it?
The automotive wiring harness is an important product for the efficiency and safety of your car. Even minor faults (e.g. stereo faults) can annoy you. In addition, major faults such as a driver assistance system failure can negate the efficiency and safety of your vehicle. Therefore, you need a warranty for such products.
Selecting a Harness
There are a few things to consider when you're ready to purchase an automotive wiring harness. To start, you should consider the number of circuits needed for your application. Typically a basic 8 circuit harness is the most you need on a T-bucket application. A 12 circuit harness is ideal for a wide range of early street rods that may only require basic needs like ignition, horn, lights, charging, etc. Planning ahead is also important, if you're considering power options or air-conditioning down the road, an 12 or 22 circuit harness would be more suitable.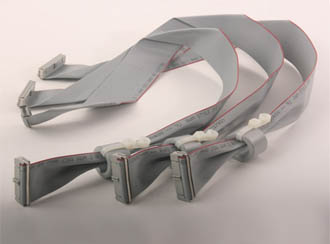 Automotive Wire Harnesses
Tips When Getting Started
Mounted fuse block
If you haven't had a chance to wire a car before, one of the toughest parts can be getting started. You can always start by laying out your harness on the floor. Familiarize yourself with the various wires and circuits. Then bundle them into the main groups of wires: like the dash, instruments, switches, engine, headlights, and taillights.
Then you can decide where to mount the fuse block. Typically customers will screw the box to a bracket or the body on a fiberglass car. Usually, the best place to mount the fuse block is under the dash on the firewall or some may mount it under the seats. You'll want a place easily accessible that will simplify running the wires from the front to the back of the car. If you took an existing harness out of your vehicle, hold on to it in case you need to re-use various pigtails or connectors that are specific to your vehicle.
Wiring Tools
Having a quality stripper/crimping tool will make all the difference, especially when you're putting solderless connectors on. For a clean look, you can use heat shrink tubing over connections to protect and insulate the wires. Conventional wire holders can be used to secure the wiring bundles to the firewall or frame. And lastly, a test light is critical to fine-tuning the entire system after you're finished. This way you can test for any voltage leaks or shorts that may cause problems after the installation.
As a wire harness supplier, Xiamen New East Asia Electronic Enterprise Co. (NEAEE), Ltd. is a contract manufacturing company established in the year 2000. We have a wealth of experience in the manufacture and supply of wiring harnesses. We have an excellent reputation worldwide. In addition, we see flexibility and a professional approach as the basis for our success. We are currently certified to ISO9001:2016, ISO13485:2015, and UL. If you want to get more information about Custom Made Wiring Harness, please contact us.