Wire harnesses are a mixture of wires that are bundled together to form a wire harness. Wire harnesses range in complexity from a few individual wires going point to point to hundreds of individual wires, multiconductor cables and welded wires all forming a complex wire harness used to transmit power and all types of data.
Wire harness designs are highly customizable, as harnesses are typically designed to suit specific applications. They may need to be concealed behind walls, fit within electrical boxes, or conform to other space constraints. Precise measurements of the environment, power demand, and lengths must be taken during design to prevent costly mistakes and ensure proper safety and functionality of the final product.
Industries That Use Wire Harnesses
Wire harnesses see broad use in an expansive range of industries. Examples of these industries include:
Medical Devices Wire Harness
Automotive wire harnesses
Industrial Wire Harness
Data communications Wiring Harness
Other industry harnesses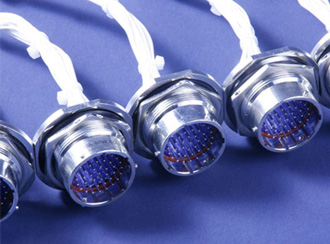 What to Measure in a Wire Harness
There are many different factors to consider when determining the required dimensions of a wire harness. Pre-design measurements should include:
Wire ends include strip lengths, type of terminal, coating of terminal and end, connection points, connector design.
Voltage/current requirements (types of wire, sizes of conductors)
Sheath material (typically made from hard plastic, PVC, TPE, PU, or PTFE).
Length and tolerance of wire (must be long enough for the bend radius, should also reach the connector) and ability of the wire to stand up over time
These guidelines can also be applied to multi-conductor cables, which are similar to wire harnesses but provide more robust protection. They are generally less cost-effective but can withstand extreme physical conditions.
Benefits of Good Wire Harness Design
The functionality of a wire harness will depend heavily on the quality of the design. Some of the benefits of quality cable harness design include:
A wire harness that is properly designed will not malfunction or require replacement.
Proper design improves the service life of wires.
Optimizes the space required for wires
Organizes all wires in one place for easy access, monitoring, and maintenance
Best Practices for Wire Harness Design
For a harness to function properly in its physical environment, the equipment must adhere to a range of best practices:
wire harness design identifies potential problems posed by the physical environment, such as electrical interference, heat and cold, moisture, radiation, and more. Engineers must design harnesses with environmental damage over time.
Correct routing facilitates optimal wire interaction. There may be multiple routing options but consideration must be given to environmental exposure, length and cost, the difficulty of routing, and stress.
Exact measurements must be conducted when cutting wires for the connector and calculating the bend radius. Bend radius can make wires on the outer part of the bundle longer than the inner wires. If this is not accounted for the overall length will be short when making connections. Measuring twice on each wire before cutting ensures that wires and conductors will be cut to the appropriate size.
The harness must fit neatly in its intended space. For example, harnesses in vehicles are very compact to ensure they can fit within the small electrical boxes contained within vehicles. Outer protective casings size must be taken into consideration
Wire harnesses often require intricate construction design with mechanical fastening, over-moulded connectors, grommets, strain reliefs, and ultra-sonic welds. Types of terminals and how they fit the wire radius is a critical decision during design.
Wire harness design manufacturer
Xiamen New East Asia Electronic Enterprise Co. (NEAEE), Ltd. is a contract manufacturing company established in the year 2000. We are currently certified to ISO9001:2016, ISO13485:2015 and UL.
For more information about our wire harnesses, cable assemblies, or other related products and services, please contact us or request a quote.